Thank you to all of our visitors for our Stay and Play morning. We had a great time doing Easter activites and showing our visitors around the classroom.
World Book Day was such a fun day! We completed lots of activities about Miss Patterson's favourite book Elmer and we were very lucky to have the P5s read to us.
We took our clipboards outside to draw plans of the building work for our school extension. Then we used our plans to inspire our work with the construction toys. We reckon that we would be great builders!
On the 100th day of school we did activities related to the number 100. We had to put 100 little balls of playdough on a grid and do lots of things for 100seconds!
We love getting wrapped up warm for outdoor play. Recent activities included writing lists for Santa in the sand and with chalk, building toys for Santa's workshop, pretending to be Santa climbing down a chimney and looking for signs of Jack Frost. We also practiced our throwing and jumping skills.
Look at our amazing visitors!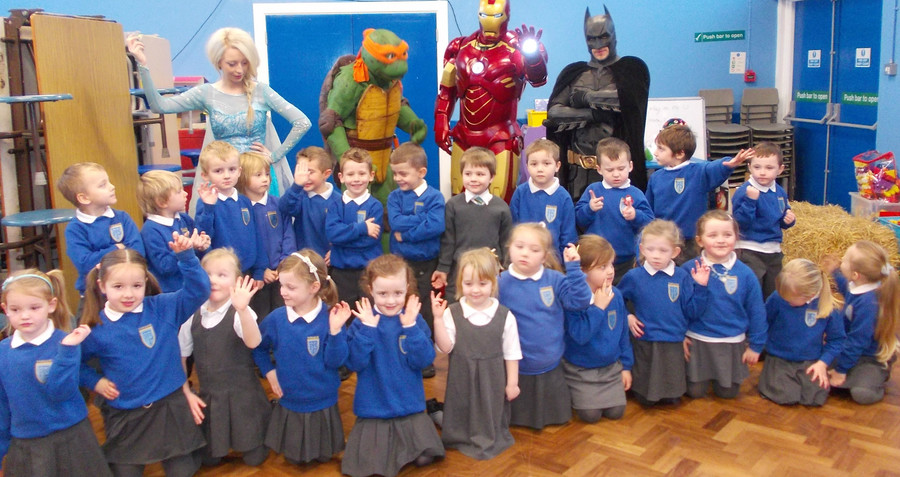 We are getting ready for Christmas!
A host of heavenly angels in the Nativity play- Whoops a Daisy!

Messy Morning - we did a spooky craft for Halloween and made lots of scary things with play dough. Thank you to all of our visitors!
What an awesome Autumn day! We raised lots of money for 'Tiny Life' by doing a sponsored walk to Wallace Park. While there we collected things for our topic sensory tray and had lots of fun playing.
P1 enjoy learning through play!
P1
Check out the link below to view pictures from previous years.